Pondscapes has an extensive history of experience in both commercial and residential water feature design, including; ponds, pondless waterfalls, fountains, and landscaping design. We are centrally located in Queen Creek, Arizona and serve clients in the greater Phoenix area. Pondscapes AZ. specializes in desert water features and landscape design that compliment your surroundings and achieve your desired look. Our services include, but are not limited to, general ongoing or periodic pond and water feature maintenance, fish selection and pond acclimation, and large scale complex designs including advanced rock and plant landscaping incorporations.
Join Our Mailing List
Houzz Award Winner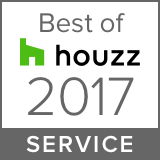 Pondscapes is the 2017 winner of the Best of Houzz – Client Satisfaction Award. These badges are a sign of commitment to excellence, and awarded to professionals rated at the highest level for client satisfaction by the Houzz community. We would love to hear from you, and we welcome your review.
Water Feature News
Clean Out season is right around the corner. Pondscapes plans on starting Clean Outs at the end of February. It is important to have a at least a Basic Clean Out once a year to keep your water feature running properly. Please contact the office if you need a contract re-sent to you, as spaces are filling up.
Veterans Day Build-A-Pond
Pondscapes spent the U.S. Marine Corps birthday and Veterans Day in 2015 building a pond for a Marine Veteran in Maryland who has changed the lives of many through his leadership. Thirty-five people from all over the country came together to pay-it-forward to this Veteran, and show their appreciation with their collaboration of expertise.